June 5 2012: "Stop the closure of the Centre for Studies in Social Justice!"
June 5, 2013|Posted in: Uncategorised
Use the letter below to make an appeal to the University of Windsor to keep the Centre for Studies in Social Justice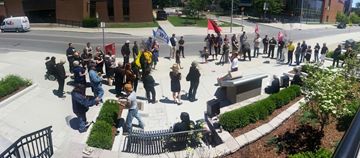 RALLY TO SAVE THE CSSJ JUNE 3 2013
Dr. Alan Wildeman, President and Vice-Chancellor, The University of Windsor,
Dr. K.W. Michael Siu, Vice President-Research
Leo Groarke, Provost.
Dear Administration of the University of Windsor,
I am deeply troubled by your decision to close the Centre for Studies in Social Justice effective July 1st 2013. The centre is a vital and vibrant hub for social justice research, knowledge dissemination, exchange, and advocacy in Canada. Closing the Centre will be a great loss for both the University and the community.
This decision is short-sighted and misguided. First because the operating costs of the centre are minuscule. Secondly, because this decision is blatantly at odds with the stated goals of University of Windsor's 2010 strategic plan, Thinking Forward…Taking Action. This document observes that, 'universities must contribute to the betterment of society' (8). The same document also claims that the University of Windsor 'is a place with a commitment to social justice'. How does the decision to close the Centre align with these objectives? It doesn't! I urge the administration to reverse the decision to close the Centre. I ask that the University of Windsor honour its mission: Enabling people to make a better world through education, scholarship, research and engagement. Given this 'reason for being' and the obvious similitude between this mission and the Centre's work, it is perplexing and outrageous that the administration has deemed the Centre for Studies in Social Justice to be of no value.
A cursory glance at the Centre's activities reveals the obvious alignment of the centre with the University's strategic priorities, I will address only a few here: #4 Engage the community in partnerships that will strengthen the quality of life, and well-being of the Windsor-Essex region and # 5 Promote international engagement through student recruitment, student and faculty exchanges, and partnerships that complement our teaching and research strengths. The Centre for Studies in Social Justice:
Hosts of national/international conferences on themes such as citizenship and democracy, security and exclusion, human rights and globalization and protest movements and the state of democracy.
Hosts guest speakers from around the world such as Raj Patel, David Harvey, and Uma Kothari.
Hosts panel discussions with local academics and activists and supports many community initiatives such as the Social Forum.
Hosts annual social justice fora for area school children through partnerships with community groups and school boards. This is excellent student recruitment.
Actively promotes research and dissemination within the University and in the broader community (i.e. regularly hosts symposiums and has published its open access journal, Studies in Social Justice, since 2007—this open access journal speaks to the centre's commitment to the principle that making research freely available to the public supports a greater global exchange of knowledge).
In short, the centre is committed to actualizing the University's responsibility as a public institution.  I urge you to take action—reverse the decision to close the Centre. I look forward to receiving a response.
Sincerely,
<<<<<<<<<<<<<<<<<<<<<<
Street address is :
401 Sunset Ave  Windsor, ON N9B 3P4, Canada
Dr. Alan Wildeman
President & Vice-Chancellor
Phone: 519-253-3000, ext. 2000
E-mail: president@uwindsor.ca
Dr. K.W. Michael Siu
Vice-President, Research
Room 324 Chrysler Hall Tower
Office of Vice-President Research
Dr. Leo Groarke
Provost and Vice-President, Academic
Room 512 Chrysler Hall Tower
Provost
THE CENTRE BROUGHT FUTURE UNIVERSITY STUDENTS TO SEVEN SOCIAL JUSTICE FORUMS ON CAMPUS
Board president WWEC, member at large Social Justice Windsor District Labour Council. President, Global Resource Centre.